---
In order to swap your tokens via the tool, you must complete the following steps:
Step 1: Go to www.h.cash
Step 2: Click on the top left menu button (which will expand the menu) and click 'Swap HSR to HC'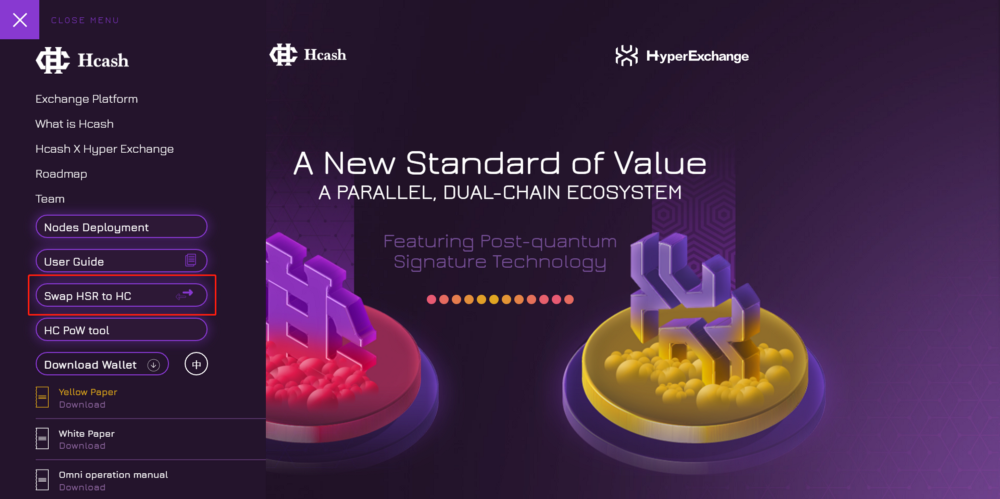 Step 3: Follow the instructions to proceed with your swap (note: it is advisable to follow the signing message tutorial found below)
Please note: Any HSR tokens mined after the official release date of the HC mainnet (HSR block 938,888) will be deemed invalid and will be unable to be swapped.
The swap tool itself will only be active for a period of three months (November-February), thus, to avoid further complications, please swap your tokens now. If you are unable to do this, please contact our team who will be able to accommodate for your circumstances if necessary. The reason behind this decision is that the Foundation wishes to place the maximum amount of its available resources in activities relating to HC.
The swap process may take upwards of 24 hours, depending on the amount of requests. Each swap is confirmed manually to ensure every transaction is valid . We thank you for your patience.
If you have any issues, please email our support team at support@hcash — from here, someone from the team will reply within 24 hours (on weekdays — AEST).
---
We appreciate all of our patient supporters, and apologise for the delay in the activation of the tool. We understand that this has caused users some inconvenience, however, we can say that the delay was caused by circumstances relating to third parties, which were out of our control. We are always striving to build and maintain relationships, to ensure efficiency in our operations, and are always improving our processes.